Logistics
Logistics
Another cross-functionnal department, handling parts from manufacturing workshops or from warehouses, to the workstations where they will be used or assembled on the vehicle.
2 results in your criteria
Handling Protection
Optimal dexterity and sensitivity for light protection. Usable with touch screens.
Complementary product line
To contact us
If you would like to ask us a commercial question about our products or if you would like to have more technical information about our gloves and their use, please fill out one of the forms proposed below.


Documentation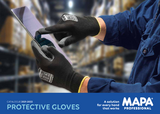 Mapa Professional 2021 Catalogue
Online reading
English - 2021
All documents