KryTech 532 S
Specific advantages
An ultra thin thumb hole area provides better comfort and increased safety while maintaining dexterity
Velcro adjustable strap for secure fit
Washable up to 5 cleaning cycles (see laundering and drying conditions)
Designed for women, the width has been adapted to complete the standard size product (Krytech Arm 532)
Previous name: Krytech Arm
Applications
Automotive/mechanical industry
Assembly of thin metal sheets
Automotive assembly
Handling metal parts
Mechanical maintenance
Mechanical industry
Standards
334XB

ISO 13997:
5.3N (540g)
Product detail
Material
Colour
Grey
Interior Finish
Seamless textile support from HDPE fibres
Exterior Finish
Length (cm)
Thickness (mm)
Size
Packaging
6 pairs/bag
72 pairs/carton
Operating instructions
Instructions for use
Not be used next to moving machinery.
The cuff must be worn associated with a glove with at minimum the same levels of protection.
Adjust the cuff on the arm with the Velcro® strap.
Caution: inappropriate sleeve usage or cleaning may alter performance level. For more information on sleeve usage or performances, contact your distributor or Mapa Professional Technical Customer Service (stc.mapaspontex@mapaspontex.fr)
Laundering conditions
Performances of the sleeves are not negatively affected by cleaning up to 5 cleaning cycles* under the conditions described above: Use of a household or industrial washing machine and a standard liquid detergent, synthetic program temperature 60 ° C and spin drying at 400 rotations per minute. It's advisable to attach the magic tape before to put the sleeve inside the washing machine. Improper use of the gloves or submitting them to a cleaning or laundering process that is not specifically recommended can alter their performance levels.
The customer or the launderer is sole responsible for the compliance with the washing conditions.
* Test performed: 5 successive washes on unworn gloves.
Drying conditions
Tumble drying at 60°C maximum. Put the sleeves on dry and clean hands. Ensure the inside of the sleeves is dry before putting them on again.
Legislation
This product is not classified hazardous according to the regulation (EC) n°1272/2008 of the European Parliament and of the Council. This product does not contain more than 0.1 % of substance of very high concern (SVHC) or any substance included in the annex XVII of the regulation n° 1907/2006 of the European Parliament and of the Council (REACH).
Cut Protection
High-performance protection for intricate handling in reasonably clean environments
To contact us
If you would like to ask us a commercial question about our products or if you would like to have more technical information about our gloves and their use, please fill out one of the forms proposed below.


Documentation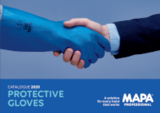 All documents