Precision work
Precision work
For precision work, you need gloves that act like a second skin, protecting against cuts but maintaining excellent dexterity.
2 results in your criteria
New
Cut Protection
Comfort, Suppleness & breathability without any compromise on cut protection & durability Can be used with touch devices & touch screen
New
Cut Protection
Very high cut protection without any compromise on comfort and dexterity.
To contact us
If you would like to ask us a commercial question about our products or if you would like to have more technical information about our gloves and their use, please fill out one of the forms proposed below.


Documentation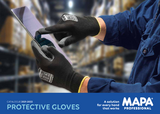 Mapa Professional 2021 Catalogue
Online reading
English - 2021
All documents