KryTech 584
Specific advantages
A long cuff for a better protection of the forearm
Excellent dexterity and optimized shape to reduce fatigue.
Excellent tactile sensitivity due to the gloves reduced thickness
Suitable for long-term wear : excellent abrasion resistance
Previous name: KryTech 579 LC
Applications
Automotive/mechanical industry
Assembly of thin metal sheets
Automotive assembly
Finishing work
Handling and sorting small, sharp parts
Handling untrimmed parts or sheet metal
Precision assembly
Paper industry
Handling cardboard and paper
Standards
4342B

ISO 13997:
5.3N (540g)
Product detail
Material
Polyurethane
Colour
White / Grey
Interior Finish
Seamless textile support from HDPE fibres
Exterior Finish
Ventilated back
Length (cm)
27-32
Thickness (mm)
Size
6 7 8 9 10 11
Packaging
1 pair/bag
12 pairs/bag
96 pairs/carton
Operating instructions
Instructions for use
It is recommended to check that the gloves are suitable for the intended use, because the conditions of use at workplace may differ from the « CE »-type-tests.
It is not recommended for persons sensitized to natural latex( glove with elastic wrist).
It is not recommended to use this glove next to moving machinery.
Put the gloves on dry, clean hands.
Storage conditions
Store the gloves in their original packaging protected from heat, light and humidity.
Laundering conditions
Performances of the gloves are guaranteed after 5 cleaning cycles under the conditions described above: Use of a household or industrial washing machine and a standard liquid detergent, synthetic program temperature 40 ° C and spin drying at 400 rotations per minute.
Improper use of the gloves or submitting them to a cleaning or laundering process that is not specifically recommended can alter their performance levels.
Drying conditions
Tumble drying at 60°C maximum.Put the gloves on dry, clean hands. Ensure the inside of the gloves is dry before putting them on again.
Legislation
This product is not classified as hazardous according to the directive 1999/45/EC of the European Parliament and of the Council.This product does not contain more than 0.1 % of substance of very high concern (SVHC) or any substance included in the annex XVII of the regulation n° 1907/2006 of the European Parliament and of the Council (REACH)
New
Cut Protection
Enhanced safety, comfort and durability with Grip & Proof Technology
New
Cut Protection
High cut protection without any compromise on comfort and dexterity. Usable with touch screens.
To contact us
If you would like to ask us a commercial question about our products or if you would like to have more technical information about our gloves and their use, please fill out one of the forms proposed below.


Documentation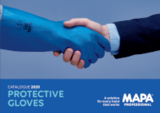 All documents