Solo BOX 967
Gallery
Specific advantages
Excellent dexterity thanks to flexibility and reduced material thickness
Silicone free to prevent traces, defects on metal sheet and glass prior to painting
Applications
Automotive/mechanical industry
Assembly of small oily parts
Food industry
Cheese-making
Food handling
Handling fruits and vegetables
Handling prepared foods
Preparation and packaging
Mechanical industry
Assembly of small oily parts
Laboratory
Pharmaceutical preparation
Manufacturing of medicines
Research, analysis, handling of precision parts
Standards
Suitable for food use with all types of food according to the
European Directive CEE 1935/2004 except foods with a pH below 4.5. Worn
alone or as as an outer-glove, this non-powdered glove is particularly suitable
for the preparation of poultry meat and for biscuit-making and confectionery..
Product detail
Material
Nitrile
Colour
Blue
Interior Finish
Non powdered
Exterior Finish
Smooth with pebbled fingertips
Length (cm)
25
Thickness (mm)
0.08
Size
6 7 8 9
Packaging
100 gloves/box
1000 gloves/carton
Disposable
Excellent dexterity, suitable with light food handling and environment. Its plastic packaging has been specifically designed to avoid cross contamination
To contact us
If you would like to ask us a commercial question about our products or if you would like to have more technical information about our gloves and their use, please fill out one of the forms proposed below.


Documentation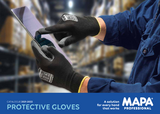 Mapa Professional 2021 Catalogue
Online reading
English - 2021
All documents