Solo BOX 967
Gallery
Specific advantages
Excellent dexterity thanks to flexibility and reduced material thickness
Applications
Automotive/mechanical industry
Assembly of small oily parts
Food industry
Cheese-making
Food handling
Handling fruits and vegetables
Handling prepared foods
Preparation and packaging
Mechanical industry
Assembly of small oily parts
Laboratory
Pharmaceutical preparation
Manufacturing of medicines
Research, analysis, handling of precision parts
Standards
Type C
Suitable for food use with all types of food according to the
European Directive CEE 1935/2004 except foods with a pH below 4.5. Worn
alone or as as an outer-glove, this non-powdered glove is particularly suitable
for the preparation of poultry meat and for biscuit-making and confectionery..
Product detail
Material
Nitrile
Colour
Blue
Interior Finish
Non powdered
Exterior Finish
Pebbled
Length (cm)
24,5
Thickness (mm)
0.08
Size
6 7 8 9 10
Packaging
100 gloves/box
1000 gloves/carton
Operating instructions
Instructions for use
• It is not recommended to persons sensitized to dithiocarbamates to use these gloves.
Put the gloves on dry, clean hands.
Position the cuff over the garment to prevent penetration of a liquid.
These gloves are designed for single use only.
Do not touch the external side of the gloves when taking them off. Fold back the cuff end and pull them off while turning them inside out.
Storage conditions
Store the gloves in their original packaging protected from direct sunlight, far from heat sources
Legislation
This product is not classified hazardous according to the regulation (EC) n°1272/2008 of the European Parliament and of the Council. This product does not contain more than 0.1 % of substance of very high concern (SVHC) or any substance included in the annex XVII of the regulation n° 1907/2006 of the European Parliament and of the Council (REACH).
Disposable
The best chemical protection in disposable range : the compromise between protection and dexterity
Disposable
Excellent dexterity, suitable with light food handling and environment. Its plastic packaging has been specifically designed to avoid cross contamination
To contact us
If you would like to ask us a commercial question about our products or if you would like to have more technical information about our gloves and their use, please fill out one of the forms proposed below.


Documentation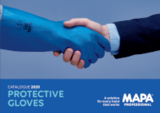 All documents