Titan 375
Gallery
Specific advantages
Exceptionally comfortable textile support (no seams on the working surfaces)
Longer service life: good abrasion resistance
Protection against humidity, oil and grease splashes
Free of harmful substances: DMF Free
Silicone free to prevent traces, defects on metal sheet and glass prior to painting
Specific features
The right compromise: lasts longer than precision work gloves, yet offers better comfort and dexterity than heavy-duty gloves.
Applications
Automotive/mechanical industry
Precision mechanical work
Handling oily mechanical parts
Construction Industry (Painters/Decorators)
Applying finishes
Preparing surfaces
Other industries
Wood working
Sanding
Packaging
Manufacturing small electrical components
Standards
CAT. 2

3111X
Product detail
Material
Nitrile
Colour
Yellow
Interior Finish
Textile support
Exterior Finish
Smooth
Length (cm)
27
Size
6 7 8 9
Packaging
1 pair/bag
5 pairs/box
50 pairs/carton
To contact us
If you would like to ask us a commercial question about our products or if you would like to have more technical information about our gloves and their use, please fill out one of the forms proposed below.


Documentation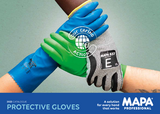 All documents