KRYTECH 837
Gallery
Specific advantages
Superior cut resistance LEVEL E including wrist area for a maximal protection
Leather palm ensures good puncture resistance when handling untrimmed parts
Foam nitrile coating and leather-free at fingertips for increased grip & dexterity
Advanced platting knitting technology allows the softer yarn to be in contact with the skin for user's optimized comfort &flexibility
Nitrile crotch reinforcement between the coating and the leather
Great durability thanks to leather palm and high tenacity polyester seams
Glove lifetime extended and reinforced security thanks to the crotch reinforcement between thumb and index that protects the glove from any early damage in this very exposed area
Free of harmful substances: DMF Free
Specific wrapping process that avoids skin irritations as the rough fibres are surrounded by a more comfortable yarn
Silicone free to prevent traces, defects on metal sheet and glass
Dry cleaning: Up to 5 times without any alteration on performances* to extend glove lifespan, reduce costs and waste
*Tests carried out on unworn gloves (i.e. in new condition) which differs from the reality in the field.
Applications
Automotive/mechanical industry
Metal working
Handling untrimmed parts or sheet metal
Handling sheet metal
Handling parts post-press
Cutting strips (plasma etc.)
Standards
CAT. 2

4X44E

X1XXXX

ISO 13997:
29.9N (g)
Product detail
Material
Foam nitrile
Colour
Black, grey
Interior Finish
Seamless textile support from HDPE fibres
Exterior Finish
Leather layer on palm with reinforced thumb / index
Length (cm)
30
Size
8 9 10 11
Packaging
12 pairs/bag
48 pairs/carton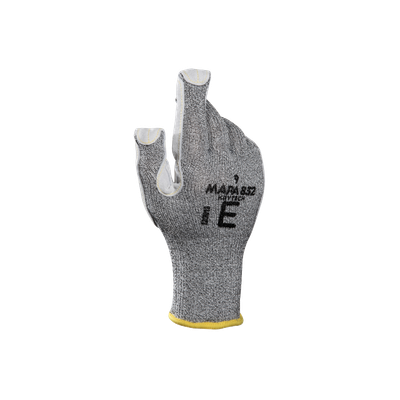 Cut Protection
Good protection for handling heavy and sharp metal parts in dry and slightly wet environments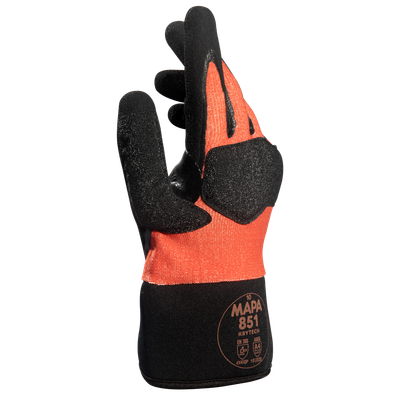 Cut Protection
High-level cutting protection, shock absorption, durability and comfort for heavy handling work.
To contact us
If you would like to ask us a commercial question about our products or if you would like to have more technical information about our gloves and their use, please fill out one of the forms proposed below.


Documentation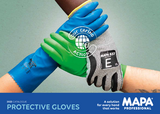 All documents