Solo Plus 995
Gallery
Specific advantages
Excellent dexterity thanks to flexibility of natural latex.
Easy to put on and take off.
Protection adapted to short duration usage.
Applications
Laboratory
Manufacturing of medicines
Pharmaceutical preparation
Research, analysis, handling of precision parts
Health
Common Tasks in hospitals and clinics
Standards
Type C
Product detail
Material
Natural latex
Colour
Green
Interior Finish
Chlorinated
Exterior Finish
Smooth with pebbled fingertips
Length (cm)
24.5
Thickness (mm)
0.10
Size
6 7 8 9
Packaging
100 gloves/box
1000 gloves/carton
Operating instructions
Instructions for use
It is not recommended to persons sensitized to natural latex, thiazoles and dithiocarbamates to use these gloves .
Put the gloves on dry, clean hands.
Position the cuff over the garment to prevent penetration of a liquid.
These gloves are designed for single use only.
Do not touch the external side of the gloves when taking them off. Fold back the cuff end and pull them off while turning them inside out.
Storage conditions
Store the gloves in their original packaging protected from light, fumidity, and far from heat sources and electrical equipment.
Legislation
This product is not classified hazardous according to the regulation (EC) n°1272/2008 of the European Parliament and of the Council. This product does not contain more than 0.1 % of substance of very high concern (SVHC) or any substance included in the annex XVII of the regulation n° 1907/2006 of the European Parliament and of the Council (REACH).
Chemical chart
Protection rating is determined by taking into account the effects of both permeation and degradation in an attempt to provide users with an overall protection guideline when using our glove products against specific chemicals.
Meaning of colors :
Used for high chemical exposure or chemical immersion, limited to breakthrough time based on a working day.
Used for repeated chemical contact, limited to total chemical exposure i.e. : accumulative breakthrough time based on a working day.
Splash protection only, on chemical exposure the gloves should be discarded and new gloves worn as soon as possible.
Not recommended, these gloves are deemed unsuitable for work with this chemical.
NA : Not applicable because not fully tested (only degradation OR permeation results)
The chemical test data and overall chemical protection rating should not be used as the absolute basis for glove selection. Actual in-use conditions may vary glove performance from the controlled conditions of laboratory tests. Factors other than chemical contact time
Chemical Product
CAS #
Breakthrough time
(minutes)
Permeation
level
Standard
Degradation
level
Rating
2-Butoxyethanol (Butyl Cellusolve) 99%
111-76-2
1
0
EN 374-3:2003
NT

2-Propanol (Isopropanol) 99%
67-63-0
1
0
EN 374-3:2003
NT

Ethanol 95%
64-17-5
1
0
EN 374-3:2003
NT

Hydrochloric acid 35%
7647-01-0
24
1
EN 374-3:2003
NT

Hydrogen peroxide 30%
7722-84-1
480
6
EN 16523-1:2015
NT

n-Butanol 99%
71-36-3
1
0
EN 374-3:2003
NT

Nitric acid 68%
7697-37-2
15
1
EN 374-3:2003
NT

Sodium hydroxide 20%
1310-73-2
480
6
EN 374-3:2003
NT

Sodium hydroxide 40%
1310-73-2
480
6
EN 16523-1:2015
NT

t-Butanol 99%
75-65-0
2
0
EN 374-3:2003
NT
*not normalized result
Disposable
Excellent dexterity, suitable with light food handling and environment. Its plastic packaging has been specifically designed to avoid cross contamination
Disposable
The best chemical protection in disposable range : the compromise between protection and dexterity
To contact us
If you would like to ask us a commercial question about our products or if you would like to have more technical information about our gloves and their use, please fill out one of the forms proposed below.


Documentation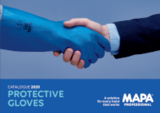 All documents