Ultrane 524
Gallery
Specific advantages
Product specifically developed to dissipate electrostatic charges, to protect electronic device from ElectroStatic Discharge (ESD) in Compliance with EN16350 (ATEX glove standard);
No risk of damage to pieces handled.
Excellent dexterity in fingertips, and touch screen in thumb and index.
High comfort & Breathability : second skin effect, thin liner to ensure suppleness & flexibility.
Applications
Automotive/mechanical industry
Precision assembly
Quality control
Part assembly
Aeronautics industry
Part assembly
Precision work
White appliance
Precision assembly
Electronic card & component handling
Electronics
Electronic component assembly (displays, LEDs, etc.)
Standards
2X20A
Product detail
Material
Polyurethane foam
Colour
Grey
Interior Finish
Seamless textile support
Exterior Finish
Ventilated back
Length (cm)
22-27
Thickness (mm)
Size
6 7 8 9 10 11
Packaging
1 pair/bag
12 pairs/bag
96 pairs/carton
Operating instructions
Instructions for use
It is recommended to check that the gloves are suitable for the intended use, because the conditions of use in the workplace may differ
from the tests performed in the laboratory.
It is recommended to not use them next to moving machinery
It is not recommended for persons sensitized to natural latex( wrist with elastic natural rubber).
Put the gloves on dry, clean hands.
Ensure the inside of the gloves is dry before putting them on again.
The person wearing the electrostatic dissipative protective gloves must be suitably connected to the ground, for example by wearing appropriate footwear
Electrostatic dissipative protective gloves shall not be unpacked , opened , adjusted or removed whilst in flammable or explosive atmospheres or while handling flammable or explosive substances
The electrostatic properties of the protective gloves might be adversely affected by ageing, wear, contamination and damage , and might not be sufficient for oxygen enriched flammable atmospheres where additional assessments are necessary
Storage conditions
Store the gloves in their original packaging protected from heat, light and humidity.
Laundering conditions
Performances of the gloves are not negatively affected by 1 cleaning cycle * according to the standard ISO6330:2012 under the conditions described above: Use of a household or industrial washing machine at 40°C ( test method 4M)
Caution : improper use of the gloves or submitting them to a cleaning or laundering process that is not specifically recommended can alter their performance levels.
The customer or the launderer is sole responsible for compliance with the washing conditions.
* Test performed : 1 washing on unworn gloves
Drying conditions
● Final drying in ambient air.
Legislation
This product is not classified hazardous according to the regulation (EC) n°1272/2008 of the European Parliament and of the Council. This product does not contain more than 0.1 % of substance of very high concern (SVHC) or any substance included in the annex XVII of the regulation n° 1907/2006 of the European Parliament and of the Council (REACH).
Handling Protection
Grip assured, skin protected up to knuckle and unbeatable fingertip sensitivity in oily environments.
Handling Protection
Optimal dexterity and sensitivity for light protection. Usable with touch screens.
To contact us
If you would like to ask us a commercial question about our products or if you would like to have more technical information about our gloves and their use, please fill out one of the forms proposed below.


Documentation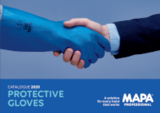 All documents