Ultrane 550
Gallery
Specific advantages
Excellent abrasion resistance: longer lasting
Excellent tactile sensitivity, due to reduced glove thickness
Added comfort, due to the seamless knit lining. Absorption of perspiration ensured by the cellular structure of the polyurethane
OEKO-TEX®
Available in vending machine packaging
Applications
Automotive/mechanical industry
Intricate assembly
Sorting small parts
Fitting small screws and fasteners
Electronics
Electronic component assembly (displays, LEDs, etc.)
High-frequency antennae riveting
Microprocessor handling
Cosmetics and Pharmaceutical industry
Cosmetics preparation
Medicine manufacturing
Standards
4131X
Product detail
Material
Polyurethane foam
Colour
White
Interior Finish
Seamless textile support
Exterior Finish
Ventilated back
Length (cm)
21-27
Thickness (mm)
Light Weight
Size
6 7 8 9 10
Packaging
10 pairs/bag
100 pairs/carton
Operating instructions
Instructions for use
It is recommended to check that the gloves are suitable for the intended use, because the conditions of use in the workplace may differ from the tests performed in the laboratory.
Put the gloves on dry, clean hands.
Storage conditions
Store the gloves in their original packaging protected from heat, light and humidity.
Laundering conditions
Caution : using the gloves or submitting them to a cleaning or laundering process that is not specifically recommended can alter their performance levels.
Drying conditions
Ensure the inside of the gloves is dry before putting them on again.
Legislation
This product is not classified hazardous according to the regulation (EC) n°1272/2008 of the European Parliament and of the Council. This product does not contain more than 0.1 % of substance of very high concern (SVHC) or any substance included in the annex XVII of the regulation n° 1907/2006 of the European Parliament and of the Council (REACH).
Handling Protection
Grip assured, skin protected and unbeatable fingertip sensitivity in very oily environments.
To contact us
If you would like to ask us a commercial question about our products or if you would like to have more technical information about our gloves and their use, please fill out one of the forms proposed below.


Documentation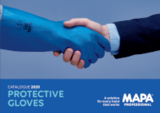 All documents