TempIce 700
Gallery
Specific advantages
Stay dry when working in wet conditions
Coating 5 times as durable than standard gloves on the market
Excellent grip when handling wet parts
Grip and Proof coating ensures an excellent grip in very oily environment . It also reduces muscle strain and boosts productivity
Silicone free to prevent traces, defects on metal sheet and glass prior to painting
Washable up to 5 times at 60°C without any alteration on performances* allowing to extend glove lifespan, reduce costs and waste.
*Tests carried out on unworn gloves (i.e. in new condition) which differs from the reality in the field.
Specific features
Warm thanks to the insulated liner, Temp-Ice 700 is the best glove in class to work in cold environment down to -10°C while maintaining comfort, dexterity and flexibility
Applications
Transport, logistics
Local Authorities (Waste Collection and Processing)
Local Authorities (Catering Services)
Local Authorities (Parks and Public Spaces)
Local Authorities (Roads and Highways)
Other industries
Maintenance in wet or cold environments
Construction materials handling
Standards
CAT. 2

3222X

02X

ISO 13997:
N (690g)
Product detail
Material
Nitrile GRIP&PROOF coating
Colour
Black, blue
Interior Finish
Knitted thermal protection
Exterior Finish
Non-slip grip
Length (cm)
24-27
Size
7 8 9 10
Packaging
1 pair/bag
12 pairs/bag
72 pairs/carton
To contact us
If you would like to ask us a commercial question about our products or if you would like to have more technical information about our gloves and their use, please fill out one of the forms proposed below.


Documentation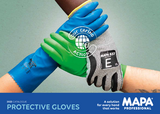 All documents