TempDex 720
Gallery
Specific advantages
Special nitrile Grip coating facilitates work in moderately oily environments
Knitted aramide fibres ensures protection from cuts
Comfort and insulation of the interior terry-cloth
Excellent abrasion resistance: superior durability
Available in vending machine packaging
Specific features
Dot embossing for better insulation and better grip
Applications
Rubber industry
Vulcanization, demoulding, forming, etc.
Other industries
Handling of moulds in the ceramic industry
Handling of hot steel after welding
Handling of hot piping
Mechanical industry
Working with hot, sharp and oily parts
Standards
4343B

X2XXXX

ISO 13997:
10,2N (970g)
Product detail
Material
Nitrile
Colour
Orange
Interior Finish
Knitted thermal protection
Exterior Finish
Dots
Length (cm)
23-28
Thickness (mm)
Size
7 9 11
Packaging
1 pair/bag
72 pairs/carton
72 pairs/carton
Operating instructions
Instructions for use
It is recommended to check that the gloves are suitable for the intended use, because the conditions of use at workplace may differ from the "CE"-type tests.
It is not recommended for persons sensitized to dithiocarbamates and to natural latex (wrist with elastic natural rubber )
Do not use in direct contact with a flame, these gloves should not be used near moving machinery, risk of being caught
Put the gloves on dry, clean hands.
Ensure the inside of the gloves is dry before putting them on again.
Inspect the gloves for cracks or snags before reusing them.
Storage conditions
Store the glove in their original packaging protected from heat, light and humidity.
Laundering conditions
Caution: improper use of the gloves or submitting them to a cleaning or laundering process that is not specifically recommended can alter their performance levels.
Legislation
This product is not classified hazardous according to the regulation (EC) n°1272/2008 of the European Parliament and of the Council. This product does not contain more than 0.1 % of substance of very high concern (SVHC) or any substance included in the annex XVII of the regulation n° 1907/2006 of the European Parliament and of the Council (REACH).
Thermal Protection
Effective thermal insulation and resistance to a wide range of chemical
To contact us
If you would like to ask us a commercial question about our products or if you would like to have more technical information about our gloves and their use, please fill out one of the forms proposed below.


Documentation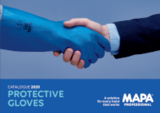 All documents