Ultranitril 410
Gallery
Specific advantages
moderate cut protection for safety work
Excellent grip when handling very oily parts that prevents risk from dropping object and reduce muscle fatigue
Exceptionally comfortable fabric lining, and seamless knit
Added comfort and flexibility
good mechanical resistance
great durability and long-lasting use
high-visibility liner to warn the wearer when the chemical barrier is damaged
reinforced protection of the forearm thanks to its longer cuff
User traceability on inner boxes and cartons.
Applications
Chemical industry
Handling and repackaging chemicals
Handling and transporting drums of chemical products
Automotive/mechanical industry
Machining parts using cutting oil
Other industries
Standards
4X31C

Type A

KLMNPT

X1XXXX

ISO 13997:
14N (g)
Product detail
Material
Nitrile and PVC
Colour
Black, yellow
Interior Finish
Seamless textile support
Exterior Finish
Non-slip grip
Length (cm)
35
Size
7 8 9 10 11
Packaging
12 pairs/bag
48 pairs/carton
Chemical chart
Protection rating is determined by taking into account the effects of both permeation and degradation in an attempt to provide users with an overall protection guideline when using our glove products against specific chemicals.
Meaning of colors :
Used for high chemical exposure or chemical immersion, limited to breakthrough time based on a working day.
Used for repeated chemical contact, limited to total chemical exposure i.e. : accumulative breakthrough time based on a working day.
Splash protection only, on chemical exposure the gloves should be discarded and new gloves worn as soon as possible.
Not recommended, these gloves are deemed unsuitable for work with this chemical.
NA : Not applicable because not fully tested (only degradation OR permeation results)
The chemical test data and overall chemical protection rating should not be used as the absolute basis for glove selection. Actual in-use conditions may vary glove performance from the controlled conditions of laboratory tests. Factors other than chemical contact time
Chemical Product
CAS #
Breakthrough time
(minutes)
Permeation
level
Standard
Degradation
level
Rating
Acetic acid 99%
64-19-7
54
2
EN 16523-1:2015
4

Acrylic acid 99%
79-10-7
59
2
EN 16523-1:2015
NT

Ammonium hydroxide solution 25%
1336-21-6
39
2
EN 16523-1:2015
4

Benzene 99%
71-43-2
10
1
EN 16523-1:2015
NT

Formaldehyde 37%
50-00-0
480
6
EN 16523-1:2015
4

Hydrofluoric Acid 70%
7664-39-3
74
3
EN 16523-1:2015
NT

Hydrogen peroxide 30%
7722-84-1
361
5
EN 16523-1:2015
4

Methanol 99%
67-56-1
32
2
EN 16523-1:2015
4

n-Heptane 99%
142-82-5
33
2
EN 16523-1:2015
4

Nitric acid 65%
7697-37-2
95
3
EN 16523-1:2015
4

Sodium hydroxide 40%
1310-73-2
480
6
EN 16523-1:2015
4

Sulfuric acid 96%
7664-93-9
158
4
EN 16523-1:2015
4
*not normalized result
To contact us
If you would like to ask us a commercial question about our products or if you would like to have more technical information about our gloves and their use, please fill out one of the forms proposed below.


Documentation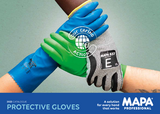 All documents