Definition
Fluoroelastomer

Fluoroelastomer, a high performance polymer, is recommended for prolonged contact with aromatic solvents, sulphur-based chemicals and amines.

The Mapa Professional multi-layer technology creates an especially supple fluoroelastomer glove, with high chemical resistance.

Fluoroelastomer is an expensive material. It is classed as a specialpurpose polymer, reserved for applications requiring very high, targeted, chemical protection.

Beware: fluoroelastomer is not recommended for prolonged contact with ketones, organic acids and acetates.
---
Back
To contact us
If you would like to ask us a commercial question about our products or if you would like to have more technical information about our gloves and their use, please fill out one of the forms proposed below.


Documentation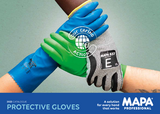 All documents