KryTech 558
Specific advantages
A long cuff for a better protection of the forearm
Excellent dexterity and optimized shape to reduce fatigue.
Suitable for long-term wear : excellent abrasion resistance
A reinforced welt in nitrile for an improved durability for the most exposed areas
Contains traces of DMF in compliance with occupational exposure limits
Washable up to 5 times at 60°C without any alteration on performances* allowing to extend glove lifespan, reduce costs and waste.
*Tests carried out on unworn gloves (i.e. in new condition) which differs from the reality in the field.
Applications
Automotive/mechanical industry
Bodywork assembly
Mechanical maintenance
Construction Industry (Carpenters/Joiners)
Installing steel structures
Construction Industry (Metalworkers/Locksmiths)
Handling and installing metal structures
Standards
CAT. 2

4343B

ISO 13997:
5.3N (540g)
Product detail
Material
Polyurethane
Colour
Grey
Interior Finish
Seamless textile support from HDPE fibres
Exterior Finish
Length (cm)
27-32
Size
6 7 8 9 10 11
Packaging
1 pair/bag
12 pairs/bag
96 pairs/carton
Cut Protection
Comfort, suppleness and high dexterity thanks to its 18 gauge. Touchscreen ability. Cut level D High visibility glove for a better user protection
New
Cut Protection
Enhanced safety, comfort and durability with Grip & Proof Technology
To contact us
If you would like to ask us a commercial question about our products or if you would like to have more technical information about our gloves and their use, please fill out one of the forms proposed below.


Documentation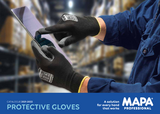 Mapa Professional 2021 Catalogue
Online reading
English - 2021
All documents