AdvanTech 513
Specific advantages
Protection against chemical splash
Slip relief providing a secure grip when handling wet or dry objects
Previous name: ROLLPRUF 513
Applications
--Single tasks--
Biotechnology
Laboratories
Pharmaceutical industry
Electronics
Photomask assembly, integrated circuit assembly, CD production, placement of thin layers
Standards
Type B

KPT
Product detail
Material
Natural latex, neoprene and nitrile
Colour
Interior Finish
Chlorinated
Exterior Finish
Smooth with pebbled fingertips
Length (cm)
30,5
Thickness (mm)
0,20
Size
9
Packaging
50 pairs/bag
200 pairs/carton
Operating instructions
Instructions for use
It is not recommended for persons sensitized to natural latex, dithiocarbamates and thiazoles to use these gloves.
Put the gloves on dry, clean hands.
The gloves do not protect from ionizing radiations and did not undergo the resistance test to cracking unde the action of ozone.
In case of chemical contact, immediately remove the gloves without touching the outside and dispose of appropriately.
Position the cuff over the garment to prevent penetration of a liquid.
These gloves are designed for single use only.
Storage conditions
Store the gloves in their sealed packaging protected from light, humidity and away from heat sources and electrical installations.
Maximum recommended storage: 1 year.
Legislation
This product is not classified as hazardous according to the directive 1999/45/EC of the European Parliament and of the Council.
This product does not contain more than 0.1 % of substance of very high concern (SVHC) or any substanceincluded in the annex XVII of the regulation n° 1907/2006 of the EuropeanParliament and of the Council (REACH)
Chemical chart
Protection rating is determined by taking into account the effects of both permeation and degradation in an attempt to provide users with an overall protection guideline when using our glove products against specific chemicals.
Meaning of colors :
Used for high chemical exposure or chemical immersion, limited to breakthrough time based on a working day.
Used for repeated chemical contact, limited to total chemical exposure i.e. : accumulative breakthrough time based on a working day.
Splash protection only, on chemical exposure the gloves should be discarded and new gloves worn as soon as possible.
Not recommended, these gloves are deemed unsuitable for work with this chemical.
NA : Not applicable because not fully tested (only degradation OR permeation results)
The chemical test data and overall chemical protection rating should not be used as the absolute basis for glove selection. Actual in-use conditions may vary glove performance from the controlled conditions of laboratory tests. Factors other than chemical contact time
Chemical Product
CAS #
Breakthrough time
(minutes)
Permeation
level
Standard
Degradation
level
Rating
1,1,2-Trichlorotrifluoroethane (Freon TF or Freon 113) 99%
76-13-1
3
0
ASTM F739
NT

2-Propanol (Isopropanol) 99%
67-63-0
3
0
ASTM F1383
NT

4,4'-Methylenedianiline (MDA) 15% and 15% Methanol mixture
101-77-9
2
0
ASTM F739
NT

Acetone 99%
67-64-1
1
0
ASTM F1383
NT

Ammonium hydroxide solution 29%
1336-21-6
19
1
ASTM F1383
NT

Formaldehyde 37%
50-00-0
480
6
EN 16523-1:2015
3

Hydrochloric acid 35%
7647-01-0
44
2
EN 16523-1:2015
NT

Hydrochloric acid 37%
7647-01-0
110
3
ASTM F1383
NT

Hydrogen peroxide 30%
7722-84-1
480
6
EN 16523-1:2015
3

Methyl Ethyl Ketone (2-Butanone) 99%
78-93-3
NT
NT
4

Phosphoric acid 85%
7664-38-2
480
6
EN 16523-1:2015
NT

Sodium hydroxide 20%
1310-73-2
480
6
EN 374-3:2003
NT

Sodium hydroxide 40%
1310-73-2
480
6
EN 374-3:2003
2

Sodium hydroxide 50%
1310-73-2
480
6
EN 374-3:2003
NT

Sulfuric acid 96%
7664-93-9
21
1
EN 374-3:2003
NT

t-Butanol 99%
75-65-0
10
1
EN 374-3:2003
NT
*not normalized result
Critical Environments
Unique tri-polymer construction offers 100% comfort for optimal mechanical and chemical resistance
Critical Environments
A tripolymer exclusive that offers 100% comfort for optimal mechanical and chemical resistance
To contact us
If you would like to ask us a commercial question about our products or if you would like to have more technical information about our gloves and their use, please fill out one of the forms proposed below.


Documentation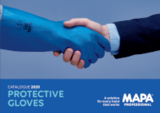 All documents