KryTech 832
Gallery
Specific advantages
Added comfort, due to the gloves anatomical shape and the flexibility of the material
Good grip for picking up parts safely in oily environments, due to external leather layer
Long service life even when faced with untrimmed metal
Excellent thermal insulation of the hand
Previous name: Kromet 832
Applications
Automotive/mechanical industry
Metal working
Handling untrimmed parts or sheet metal
Handling sheet metal
Handling parts post-press
Cutting strips (plasma etc.)
Standards
4X43E

X1XXXX

ISO 13997:
24.3N (2477g)
Product detail
Material
Colour
Grey
Interior Finish
Seamless textile support from superior strength fibres
Exterior Finish
Leather layer on palm with reinforced thumb / index
Length (cm)
23-26
Thickness (mm)
Size
8 9 10 11
Packaging
1 pair/bag
12 pairs/box
72 pairs/carton
Operating instructions
Instructions for use
It is recommended to check that the gloves are suitable for the intended use, because the conditions of use at workplace may differ from the "CE"-type tests.
Put the gloves on dry, clean hands.
Inspect the gloves for cracks or snags before reusing them.
It is not recommended for persons sensitized to dithiocarbamates or thiazoles to use these gloves, nor to use them next to moving machinery.
Storage conditions
Store the glove in their original packaging protected from heat, light and humidity.
Laundering conditions
Performances of the gloves are not negatively affected by cleaning up to 5 Dry Wash cycles Washing* conditions as
per standard EN ISO 3175-2 (as per the procedure in table 1 : Delicate level )
Caution : improper use of the gloves or submitting them to a cleaning or laundering process that is not specifically recommended can alter their performance levels.
* Test performed: 5 successive washes on unworn gloves
Drying conditions
Ensure the inside of the gloves is dry before putting them on again.
Legislation
This product is not classified hazardous according to the regulation (EC) n°1272/2008 of the European Parliament and of the Council. This product does not contain more than 0.1 % of substance of very high concern (SVHC) or any substance included in the annex XVII of the regulation n° 1907/2006 of the European Parliament and of the Council (REACH).
New
Cut Protection
High protection for handling heavy or sharp objects in wet environments
Cut Protection
Excellent cut protection and resistance to wear with optimal dexterity and comfort.
To contact us
If you would like to ask us a commercial question about our products or if you would like to have more technical information about our gloves and their use, please fill out one of the forms proposed below.


Documentation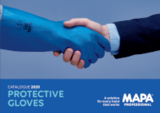 All documents